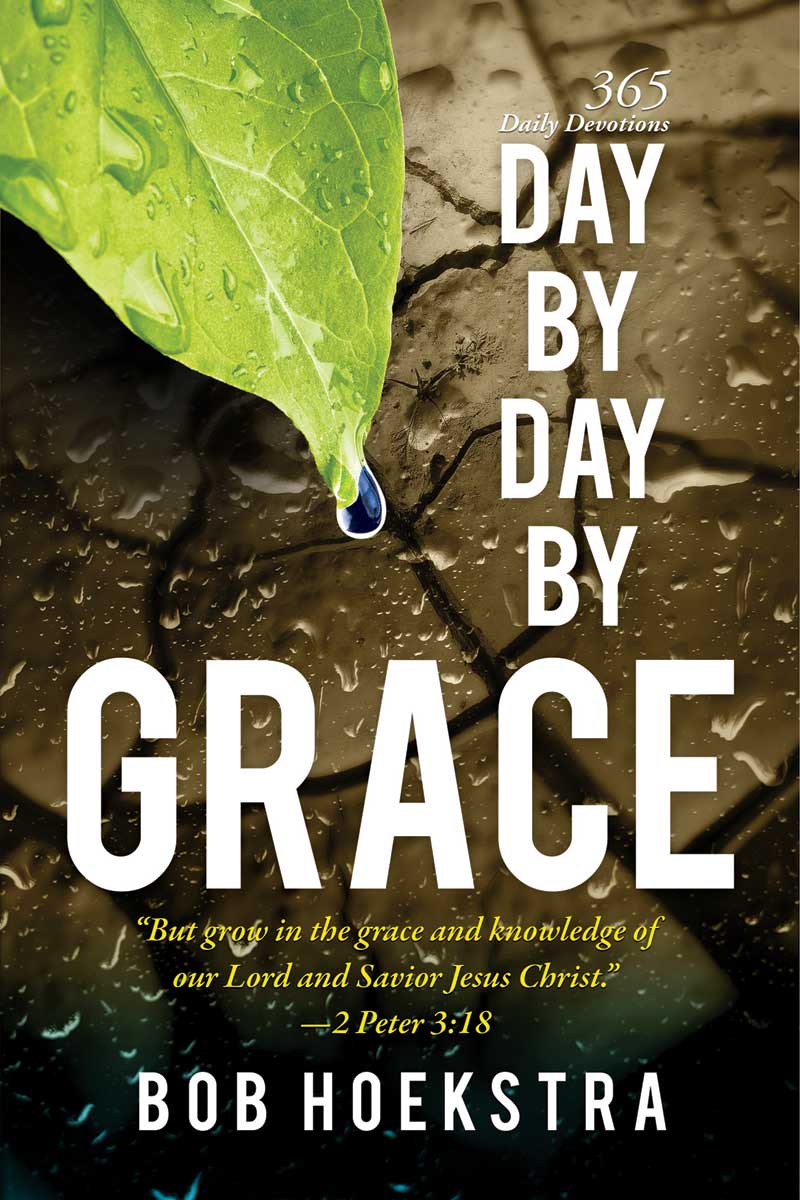 DAY BY DAY BY GRACE
"God wants us to know His grace. He wants us to learn about it and then experience it at work in our lives. In these devotionals, Pastor Bob Hoekstra explains that God's grace is much more than forgiveness. It is much more than new birth. It is much more than we have yet understood, comprehended or drawn upon. God's grace is much more than sufficient to give us abundant life and much more than what is necessary to radically change our lives.
Grace is God freely providing for us (as we trust in the person and work of His Son) all that we will ever need, all that we will ever yearn for, and all that He has commanded us to walk in and become. These are realities that we could never produce on our own, could never earn and never deserve. Grace offers what every human desperately needs, but what God alone could provide. This grace is found in a person, the Lord Jesus. Thus, it is accessible only through an ongoing, humble, and dependent relationship with Him. Through each devotional in this book, Pastor Bob points us to the One in whom this wonderful, all-sufficient grace is found."
*Prisoners receive a free special 90 day version of this book, formatted to fit mailing requirements.
365 DAILY DEVOTIONS ON GROWING IN THE GRACE OF GOD FOR THE ENTIRE YEAR
PACKED WITH SCRIPTURE, DAY BY DAY BY GRACE IS AN EFFECTIVE BIBLE STUDY TOOL
AN EXTENSIVE SCRIPTURE INDEX IS INCLUDED, REFERENCING EVERY SCRIPTURE IN THE BOOK
ABOUT THE AUTHOR
Pastor Bob Hoekstra was the founder and Director of Living in Christ Ministries as well as the Director of International Prison Ministry from 2002 until the Lord called him home in December, 2011. He had been in ministry since 1967, including fourteen years in Dallas, TX and eleven years as Pastor of Calvary Chapel of Irvine, CA. He and his wife, Dini, were married in 1966, and have three adult children and thirteen grandchildren. Bob graduated from Dallas Theological Seminary in 1973 with the Master of Theology degree.
Bob's teaching generally highlights such subjects as Counseling God's Way, Family God's Way, Growing in the Grace of God, The Church: How Jesus Builds It, Contending for the Faith, Promise Believers, The Sufficiency of Christ and His Word, The Psychologizing of the Faith, and related themes. The Living in Christ Radio Program featuring these studies is heard on stations across the country by way of traditional broadcasts as well as internet radio, which allows these studies to be heard anywhere in the world that internet connectivity is available.