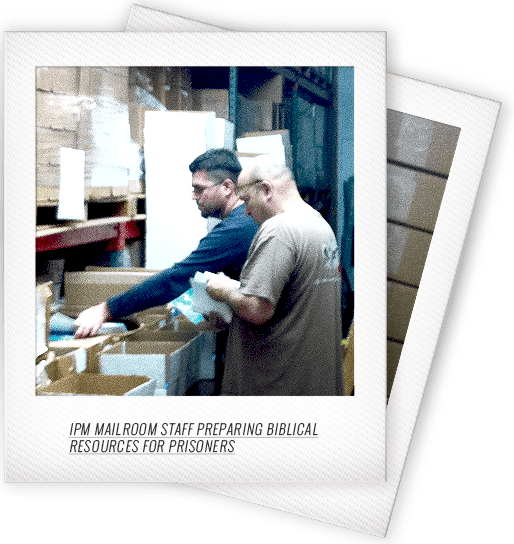 DISCIPLESHIP:
THE PURPOSE AND VISION OF INTERNATIONAL PRISON MINISTRY
EVANGELISM AND EDIFICATION
Jesus gave the great overarching commandment to New Covenant believers to make disciples of the Lord. This involves evangelism and Edification. Evangelism points the prisoner to Jesus Christ for salvation and new birth, starting out a brand new relationship with Him. Edification involves the building up and growth of that relationship through biblical instruction with warning and teaching (Col. 1:28).
BIBLICAL LITERATURE DISTRIBUTION
IPM provides Bibles, Bible Study Books, Devotional, Life-changing Testimonial Books, and other biblical literature freely to any inmate that requests these resources.
RESOURCES FOR CHAPLAINS
In addition to providing free biblical literature to inmates, IPM equips Chaplains and all who desire to be used of God in prison ministry with biblical resources for inmates as well as biblical edification studies for chaplains at a low cost.

Here at IPM, we want to be used of God in making disciples of Jesus Christ in the often forgotten mission field behind bars in jails and prisons, which exist at home and abroad. Our Teaching and Displeship Arm, Living in Christ Minsitries, helps us do just that. To learn more about Living in Christ Ministries and the discipleship resources available available inside and outside jail and prison bars, visit the LICM website.